Musician
Jazz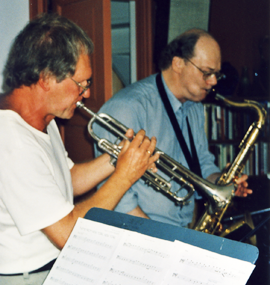 Geir recently released his independently produced CD Turning Circles, where he plays with both young up-and-coming artists and experienced jazz musicians. Both his own compositions and the well known arrangements bears his trademark improvisation and personal expression on the flugelhorn and trumpet.
Geir played regularly with the NRK Radio Big Band (Radiostorbandet) and their guest soloists such as Bill Watrous and Benny Bailey. Radiostorbandet was conducted by Helge Hurum, and its membership formed by the country's leading jazz musicians. More about Radiostorbandet here
Geir today plays with other big bands, amongst them Ski Big Band. (Also see RELEASES)
Geirs first jazz group bearing his own name was made up of Johan Bergli, Harald Halvorsen, Kåre Grøttum, Eivind Olsen and Bjørn Svendsen. Geir was a member of «Oslo 13 Jazzensemble» when they produced the record Anti-Therapy, on which amongst othes Jon Balke, Nils Petter Molvær, Torbjørn Sunde og Audun Kleive contributed.
Theatre
Geir played trumpet for the Det Norske Teatret under Egil Monn-Iversen during well-known productions such as Spelemann på taket, West Side Story, Jeppe, Cats, and Piaf. He has also contributed on numerous revues, under the direction of Dag Frøland, Dizzie Tunes and Einar Schanke. Geir was also part of the ensemble when A Chorus Line was produced for the first time in Norway, a show which became a blockbuster.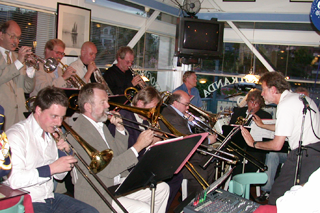 Studio musician
Geir has contributed on many records as well as radio and TV shows for the NRK. See released works for further information. He has played with well known artists, and even today new generations of children hear his trumpet on the opening music of the ever-popular advent series «Jul i Skomakergata». Geir possess solid knowledge of musical genre and theory after 10 years of studies with the trumpeter Harry Kvebæk, and as a member of different symphony orchestras over the years. In his teens Geir as a soloist on Haydn's «Concert in E-major for trumpet and orchestra». Geir is a member of NOPA.