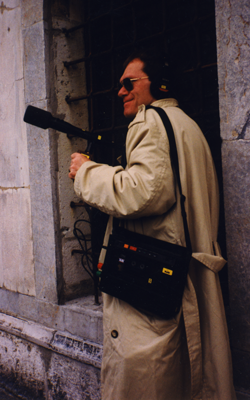 Geir Hauger works with the radio documentary team at NRK, and sound design has been his speciality since 1990. He has received numerous international awards such as Prix Italia and Prix Europa.
The combination of music and experimental sound art is Geir's professional field. He his one of the sound technical veterans working with the NRK and with over thirty five years experience, and made the first pure sound composition to be broadcast by the NRK – Metropolis Oslo.
Sound art and electro- acoustic works broadcast by the NRK
Metropolis Oslo, in Westdeutscher Rundfunks series from capitals.
Opprinnelig talt, en electro- acoustic journey from chaos to chaos.
Industria, piece for industrial communities, synthesizer and sampler.
Geir is an expert in both analogue and digital sound editing and uses professional editing suites for musical arrangement and annotation. He has a dedicated home page on NRK for sound compositions – called nrk.ulyd – where examples of Geir's many different musical expressions can be found.
Listed with his other works are the documentaries he has been responsible for. Others can be found, and listened to, on the NRK web pages.